Genes: predictor of academic ability?
I found an article today about British researchers who are analyzing the DNA of 4000+ schoolchildren with the goal of finding a relation between the kids' genes and their academic abilities.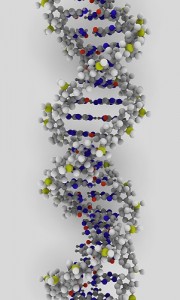 The reason I bring this up is not because the researchers found a gene to explain why you failed your math test, but because the article falls heavily into the "nature vs. nurture" trap. For those of you unfamiliar, nature vs. nurture is the debate over the relative importance of innate qualities built-in from the chromosomes ("nature"), versus personal experiences, environment, and upbringing ("nurture") in determining individual physical and behavioral differences. Really, it shouldn't be a debate: organisms' traits are a result of the interaction of what they start with and where they grow up: nature and nurture. The context in which any organism develops is remarkably important in determining which genes are expressed and how they interact to produce behavior.
Back to the article. There's one paragraph in particular that gets me:
"Research into height, for example, has picked out 300 genes that affect how tall people will grow, but even these genes can only explain 15% of the total variations in human height. It implies that hundreds more genes must also play a part."
No, that's a false choice. What's implied is that there could be other genes involved, but - and here's a novel thought - maybe the environment (e.g., nutrition) plays a role? A little bitsy part? Maybe?
A little googling:
In hopes that it was just the reporters who were being deterministic, not the researchers themselves, I set out to find more information.
Robert Plomin of King's College, London, is the behavioral geneticist cited in the article. He's currently performing a huge study of British twins. I've found several articles stating that he's a "pioneer in bringing nature and nurture together," and instead of calling it a "nature vs. nurture" debate, he's said to have call it (much more appropriately) "nature and nurture." That's reassuring. I'd have to read a few of his papers to be certain, but my interim conclusion is that it's just the reporters.
If you're interested, I also recently came across a popular article on the gender myth and genetic differences in men and women. It happens to cite Robert Plomin, too.