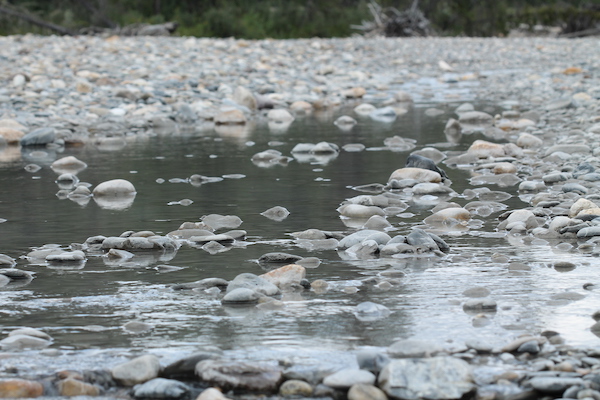 Revise and resubmit the paper... again??
One morning, in my second year of grad school, I opened my email to find a note from Sidney, a professor I'd worked for a while back:
"Reopening this old thread ... Someone requested the paper ... looking through it again I thought it was a damn good paper. We should definitely resubmit. What do you think?"
What did I think? After rejections from several journals two years prior, and over 30 revisions (I lost count), thinking about that particular unpublished paper made me feel tired. I'd finally given up on it as a lost cause. Its fate was to forever be one of those learning experiences that was probably valuable, but ultimately showed no tangible result and felt like a waste of time.
I tried ignoring the email while I drank a cup of tea and tended to the rest of my inbox. It nagged.
Really? A damn good paper? Maybe revising it again and resubmitting wouldn't be so bad. Sure, every round of reviewers had their own ideas of where any given paper should go and would nitpick different things, but we had already fixed so many minor errors and clarified potential points of confusion… I liked the idea of having something to show for all my effort on the paper so far. Or was this line of reasoning an instance of the sunk costs fallacy? (That is: I'd put so much work in so far, I should put in more work instead of cutting my losses.)
The First Draft
I had gotten a year-long job as a research intern straight out of college. I'd enjoyed my undergrad research experiences and liked the idea of getting more experience while applying to grad school. So I joined Sidney's lab. I shadowed his grad students, worked on odd bits of many different projects, ran participants through experimental studies, and learned about research at the intersection of psychology and computer science.
One day, Sidney handed me the project that became the damn good paper. He and a colleague had an algorithm and some software that their labs had used to track human body motion in a couple studies. He wanted to verify that the software worked as intended—i.e., that it tracked body motion from video in a way comparable to some other sensors. So, the plan was to collect some clean data with a camera and those other sensors. Compare the output. Run the software on a couple existing datasets that had captured body motion in video and with other sensors. Write it up, cite the paper whenever he used the software in future projects, open source the software so other folks could use it, too.
Sidney was a powerhouse writer. This was my first proper academic paper. He gave me the reins of the project and said he'd check in later.
In retrospect, having supervised a number of undergrad research assistants during my PhD, the project was a classic "give it to the student who wants experience, I don't have time for it, but like the idea of it being finished someday" project. (I have a growing list of these…) It was a good bet on Sidney's part—I took ownership. I wanted to learn how to put together a good paper.
I collected the data. We talked over an outline, and I started writing. We went back and forth on drafts a dozen times. Sidney picked a journal to submit to and sent me a couple cover letters as examples. When we got reviews back, he explained how they weren't so bad (they looked bad), and gave me some example revision response letters for when I revised the paper and drafted a reply.
But it took a while. The reviewers weren't happy. Ultimately, they rejected it. The next journal was a desk reject. And so on. Eventually, when I left Sidney's lab and started my PhD program at MIT, I left the paper, too.
The Words Aren't Right Yet
Thanks to Twitter, around the time I got Sidney's email asking about resubmission, I found myself reading the blog of science fiction and fantasy author Kameron Hurley. I enjoy her books in large part because of the gruesome realism about life and survival: characters who make it to the end of a book alive are the ones who are winning.
In one post, Kameron Hurley wrote about her experiences as a professional copywriter. She wrote words for other people for a living. She talked about a manager trying to "gently" give her feedback from a client, to which she replied: Don't mince words. Give it to me. If the words are wrong, write them until they are the right words. It was literally her job to make the words right for that client. If they weren't right, they needed revision. She needed the client's hard-hitting feedback.
Her attitude toward writing was inspirational. Her post reminded me that the words on the page aren't me. They're just one attempt at communicating an idea through the imperfect and difficult medium of language. If that communication attempt fails, we are given the opportunity to try again. As Hurley put it, "You write until the words are the right ones."
If we care about communicating our ideas, then the revision process can be a conversation. The goal is to make the writing better. The goal is to improve the presentation of ideas. The goal is to make the words right.
Writing isn't a one-time action. It's not like baking a cake—mix the ingredients, pop it in the oven, and it's done. Writing is a process. Editing is part of that process.
Reviewer feedback, like any other feedback, is aimed at making the writing better—and like any other feedback, it may need to be taken with a grain of salt. There are myriad ways to present ideas. People encounter ideas from where they are at; they may need different amounts of detail or supporting information to understand your words. And that's okay. Learning to judge your audience is a skill that takes practice, too.
Revision and Resubmission
I revised the paper for what felt like the millionth time. This time, though, it wasn't as bad as I had feared. In fact, the two years that had passed had lent me much-needed distance from the paper. As I re-read the reviewer comments from our last rejection, all the comments felt addressable. I could see where the words weren't right.
My co-authors commented and gave feedback. I revised the paper more. We submitted it to a new journal. Major revisions. We resubmitted. Major revisions. We resubmitted. Finally, the words were almost right: Minor revisions. And then it was published.
It's not the paper I'm most proud of, but it is a paper that taught me more than most. When I look at work I have in progress now—like a paper that's now on its 15th+ version, second journal, fifth year of work—I try to remember that academic publishing is often a long process. I try to remember that if the words aren't right yet, then with more time, effort, practice, and feedback, I can get a little closer to making the words right. Even a paper I'd initially given up on could be vanquished.
—
This article originally appeared on the Resilience in Academic Writing Blog, March 29, 2020