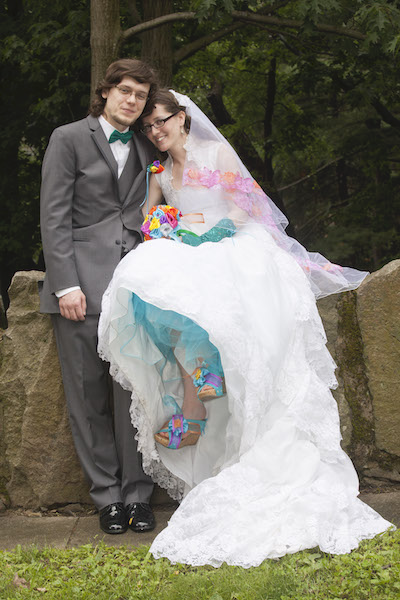 Dress
Picking a dress for a once-in-a-lifetime event is hard. I browsed dresses online. There were so many options. Did I want to wear something huge and white and over-the-top poofy? Something slim and sleek? I did want to wear a dress. I didn't mind the idea of it being white.
Fortunately, my mom still had her wedding dress. Fancy, white, and lacy, it was made in the '80s and had a train longer than I am tall. "You can have it if you want it," she told me. "That's why I saved it."
I liked the idea of wearing a family heirloom. There was something nice about that. Also the part where I didn't have to pick the style—the dress was already made and it was what it was.
"Okay!" I said. My mom mailed me the dress. I tried it on. The long, lacy sleeves were a bit much... especially for a June wedding in Boston. I didn't want to sweat through the sleeves. I had a tailor remove them.
The next step was to make the dress more "me." And that meant adding color!
The dress had a petticoat. Very poofy. I dyed it turquoise—fabric dye from the craft store and a plastic bin in my bathtub did the trick.
The dress also had a long, lacy veil, with lacy flowers all along the edges. I bought fabric dye in bright orange and magenta, and spent several afternoons carefully painting the flowers in alternating colors.
Much better.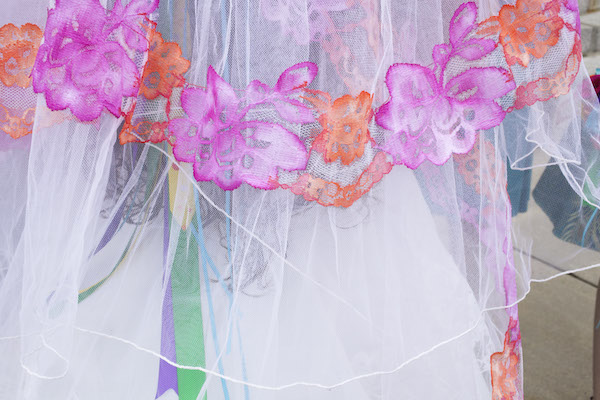 Here's the full effect with the train and veil!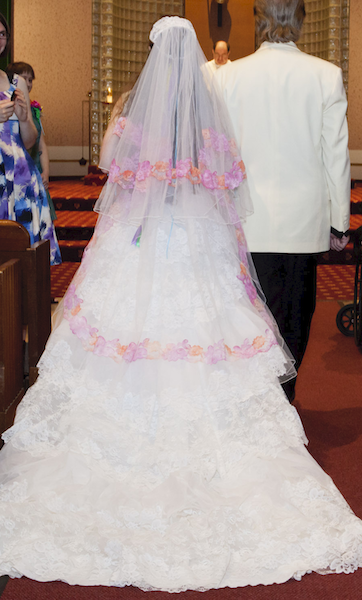 Shoes
The dress was just a little long (my mom is two inches taller than me). I didn't want to hem it, so I had to wear heels. Finding a good pair of comfy heels was tricky ... my feet are wide; most decent-looking heels don't fit. I wanted colorful shoes to go with my colorful theme. After browsing, a lot, I found these chunky wedges at some local store. The turquoise was a good base. I added thing ribbon bows along the back, and aded more ribbons and ribbon flowers over the toes. Perfect!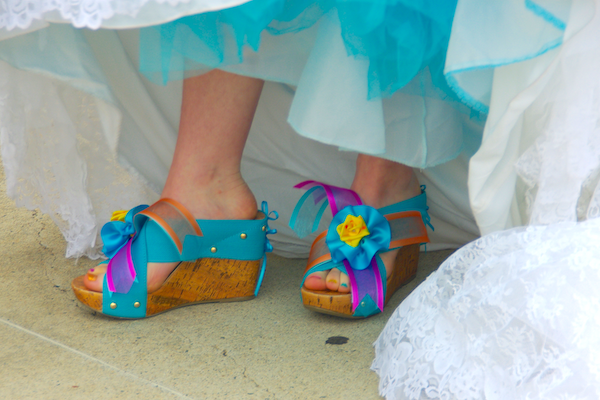 Ribbon-flower bouquet
I didn't eschew real flowers because I hate flowers. I like flowers. But I wanted to make my own bouquet. (And I didn't want to add "florist" to the list of other things I had to deal with before the wedding—I was busy enough trying to finish my master's thesis!)
I spent several weeks browsing other people's homemade bouquets online. Mine needed to be bright, colorful, and classy. I tried make a few different kinds of flowers—including with buttons, beads, and paper—before settling on ribbon roses as my favorite.
I ordered a bunch of satin ribbon online. A bunch. Bulk ribbon was cheaper. So much ribbon. Green, silver, purple, pink, purple, orange, turquoise, yellow with polka dots, shiny transparent pink, shiny transparent turquoise.... you get the picture. Most of it was 1.5-inch ribbon, which made a good size flower.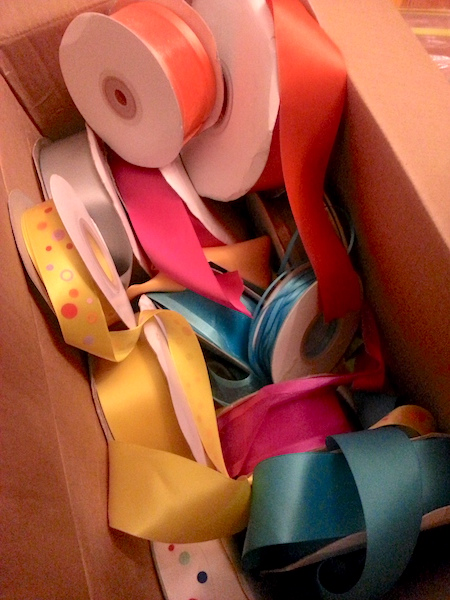 Then, settling down for many evenings watching random shows on Netflix, I made a bunch of ribbon flowers. I attached each flower to a green wire stem, made of floral wire, that I bought at Michael's. When I had a huge pile of flowers, I arranged the bouquet. Twisting the stems together held them in place, mostly.
I don't have great pictures of the work in progress, unfortunately! Here's all the flowers put together, after the bouquet was finished.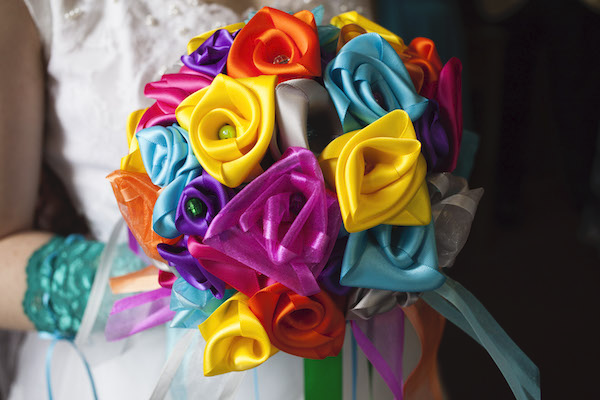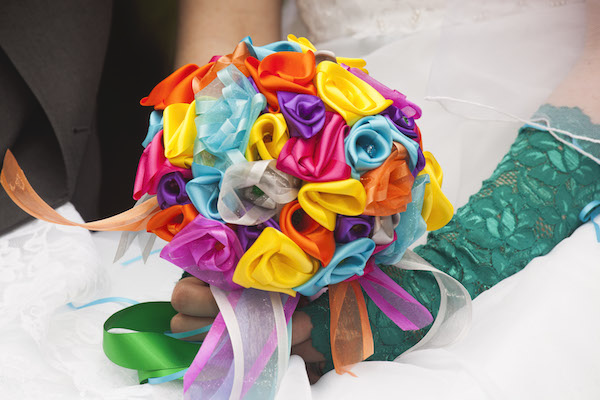 The next step was to hide the kind of ugly wire steps. I wrapped green ribbon around the stems and glued the ribbon in place with some tacky glue.
I cut turquoise felt into a flowery circle and used that to hide the rest of the stems.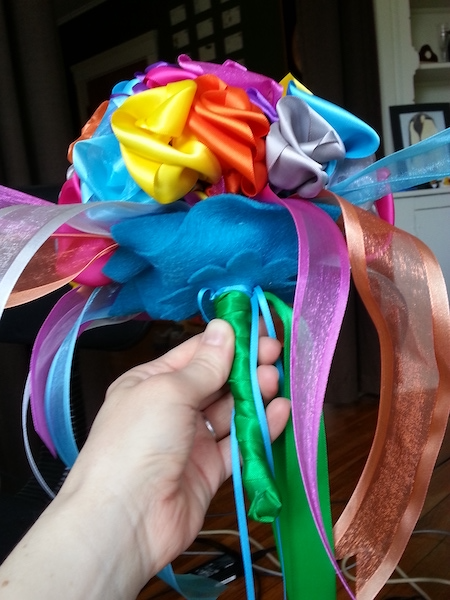 I tied a couple long pieces of thin turquoise ribbon and more of the green ribbon around the base of the stems.
Voila! Here's the finished product.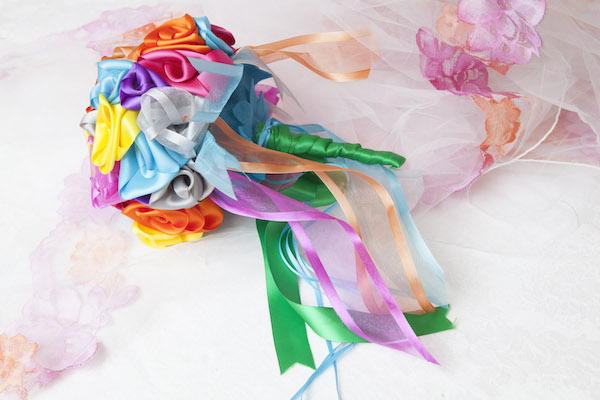 Boutonnieres and corsages
For the rest of the wedding party, I made mini ribbon flowers for their boutonnieres and corsages. The flowers were made the same way as for my bouquet, but with 1-inch ribbon. Again, I used green ribbon to hide the stems.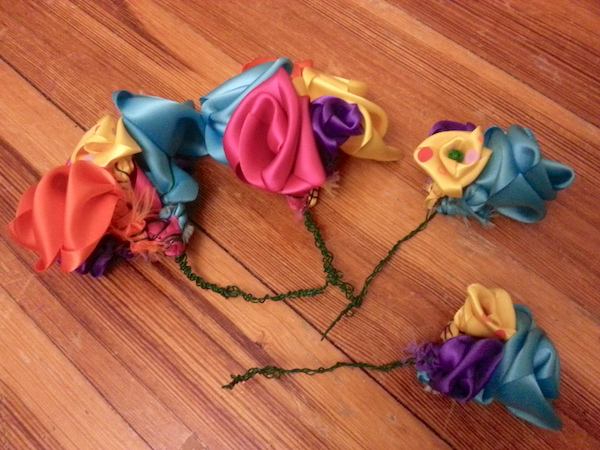 Boutonnieres: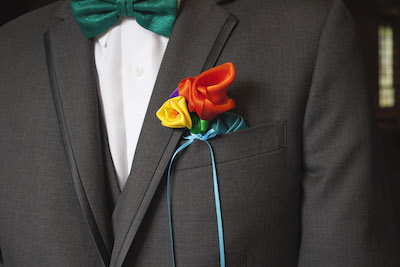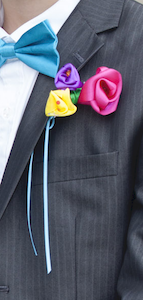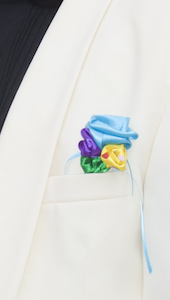 Corsages: