Aeronautics Student Forum
Wednesday, August 4th. 10AM. The Aeronautics Student Forum.
My lab is lined up in the front row, fidgeting, exchanging nervous glances. We trade seats between the other students' presentations, taking turns with the laptop to read over the half-done powerpoint.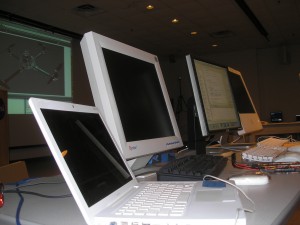 The motion tracking camera system is set up (we were in the building until 10pm the previous night, testing our hardware and software, ensuring it'd all be ready to demo). One of the cameras lurks beside the white screen, ominous, a constant reminder that it's our turn in an hour, and like or not, we don't have our finalized slides and some of us don't even know for sure whether we'll be speaking.
It was nerve-wracking.
It was also remarkably exciting.
Presentations, preparation, control
I usually plan presentations out to the last sentence. I know I'm not an improv whiz, so I practice my talk out loud over and over. Any slides I have, they're done at least two nights ahead of time. Practice, preparation, organization. No need to worry because I have everything under control.
This presentation at the aero forum was the opposite.
The previous week, to the relief of my labmates, I'd tried to organize everything (the slides, the talks, the demo). But our mentor, Garry, told us not to worry about any of it. He kept repeating that: don't worry. It's just a presentation.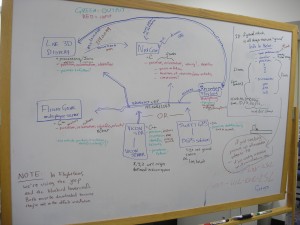 None of us were convinced.
It wasn't until Garry sat down with me and explained what he had in mind--how he was going to help compile photos and diagrams into a logical order--that I trusted he was right. No need to worry. He had given scores of presentations. He had good ideas. He frequently pulled things together last-minute. It'd be okay.
In short, when he explained that, I consciously relinquished control. I mentioned control (and the lack thereof) in the context of volleyball games with my lab. The same idea comes into play here: Setting perfectionism aside, trusting that someone else is competent enough to get the job done. Teamwork. All that good stuff.
Coming together last-minute
Garry showed up not long after 10AM, printed copies of the finalized powerpoint in hand. As our time slot approached, my labmates and I shuffled discretely through the slides, still worried, still anxious.
Our turn came. We trooped up to the podium, all nine of us. We spoke. Twenty minutes, all told (not too long, really), plus the demo. We explained our newly established Autonomous Vehicle Lab, its capabilities, and what the audience would see in the demo. We flew our quadcopter. We demonstrated object tracking and obstacle avoidance.
It went well. It went better than well: our presentation was splendid.
Everyone knew what to say. Everyone was clear, concise, and comprehensible. Perhaps it was because we were not prepared that we were prepared: rehearsing, in our minds, coherent sentences about our parts of the project. Recapitulating our work with the quadcopters, the DGPS system, the Vicon cameras, the many vehicles and pieces of software. Unsure of what we would need to say, and thus, preparing for the worst.
If not for Garry's persistent "don't worry about it"s, I would never have experienced a presentation this way. I'd have planned out that talk and every one after, never daring take a chance on not preparing enough and not practicing enough. Now I know. Our aero forum talk was proof: Things can come together last-minute.
That said, I think I still like having my slides done more than an hour before the presentation. As engrossing an adventure as it was, last-minute isn't going to become my style.