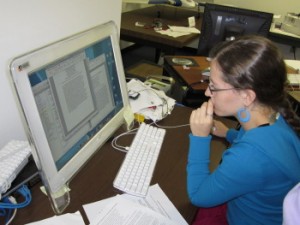 A problem with writing
Writing without getting feedback is great. You're writing. That's good.
Writing with feedback is even better.
The biggest problem students tend to have—whether or not you are one of these people—is getting feedback on their writing. You need feedback to improve. You need to see what good writing looks like and what bad writing looks like. You need to how other people would say the same thing differently, and why.
(This isn't a problem only relevant to students. It's relevant to most people who write. But I'm a student, and a lot of the people I interact with on a daily basis are students, so this is advice targeted at us.)
As it turns out, this whole feedback thing is actually several problems.
#1: Get feedback
First. You need to get feedback on your writing. Sometimes this is hard, because everyone is busy and may not have time to comment in detail on your paper drafts. But it's really, really important.
It's something we should all do for each other.
Send your paper drafts to the other students in your group. Ask them for feedback. If we all have the mindset that we can help each other out, then it's a reciprocal process: you give feedback on their papers, you get feedback on yours.
When you ask other students for feedback, respect their time. Try not to send them a paper to look at last minute, unless you ask them if it's okay first. That said, pretty often they're willing to help you at the last minute because we all know how deadlines are and what it's like trying to finish a paper. (At least, the students in my lab are like that. We try to help each other.)
You can also get other friends, students, family, whoever to look at your paper. Getting someone who's in your field to look at the paper is great, because they know the conventions for how papers are written and organized -- what's expected in your field. Getting people outside your field to look at your writing is also great. You get to learn whether you're understandable to someone who's unfamiliar with your work already. It's really easy to forget to explain things that seem straightforward to you but really aren't, because you think about them all the time.
#2: Give feedback
Second. You need to give feedback on others' writing. Reciprocally, when other students send you paper drafts, give them the kind of feedback you'd like to get. Be friendly, be helpful, be detailed when you can, but be critical. The goal is to improve their writing. Critiquing other people's writing helps you see what you think is, and is not, good writing. It helps you see how writing is done. It helps you realize that when you get feedback, the other person is trying to point out stuff you might've missed the first time around, not trying to be mean...
#3: Don't take feedback personally
Third. When you get feedback, don't take it personally. Or put in the positive, do remember that your writing is not you. You're still practicing. Still getting better.
When you get a critique on a draft, or when you get back the reviews of a paper submission, the first thing you do is briefly skim it. Say to yourself, okay, this person read what I wrote and thought these bits could be better. They are not trying to be mean. They are not saying that I am a terrible writer. They are trying to help me express my ideas more clearly and coherently. They probably have more experience doing this than me, so I should probably pay attention.
You don't have to pay attention right away. Take a step back. Set the reviews aside. Get a cup of tea. In a little while, after reminding yourself that reviews and critiques are, almost always, intended to help you be better at writing, go back to them. Tackle them head on and revise that paper. Remember that since people are busy, comments they write on your drafts may be terse. That's okay. They're just trying to be efficient. Revise that paper anyway. Remember that you don't have to accept all the feedback and make all the changes they suggest--some things are absolute (like spelling), some things are opinion (like how to best phrase a sentence). Sometimes people are unhelpful and sometimes their comments don't make sense.
If you're revising a paper for a conference or journal based on reviews you got, definitely get help from people who've done these kinds of revisions before--other students, postdocs, and professors! The way I learned how to politely and completely respond to reviews on a journal submission was by seeing how the professors I worked with phrased things and told me to write things. I was given copies of past cover letters and response letters as examples.
Revision is part of writing
In summary: Get feedback. Give feedback. Writing is practice. Revision is part of the writing process. You have to write and fix what you write to get better.