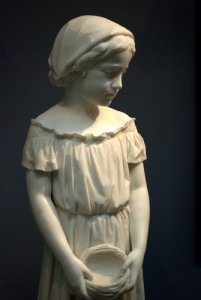 You may have noticed the new tagline on this site's header. If you were exceptionally observant, you may have noticed that the tagline, for about a day, said "... one girl's interactions ..." rather than "... one woman's interactions ...." It only struck me later, after seeing the word "girl" at the top the webpage, that I had chosen the wrong word.
As I'm sure you're aware, "girl" tends to be used to discuss younger female people. When does one switch to referring to those females as "women" instead? Certain criteria appear to be in place for the new title: an age requirement, a threshold level of maturity, specific biological changes. One might hold different standards for oneself than for other people, requiring a particular amount of self-assurance that one is, in fact, mature.
So, out of curiosity, when did you start referring to yourself, in your mental dialogue, as a woman rather than a girl, or as a man rather than a boy?
For me, "girl" would have still been the wrong word a year or two ago. Why did I initially select it anyway? Perhaps I'm still getting used to the idea that I'm growing up. Isn't the end of adolescence and the beginning of adulthood is a fascinating place to be?