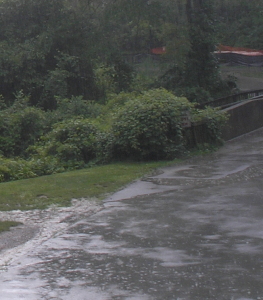 Your expectations define your perceptions
It's raining.
Fat, corpulent water globules cascade from the sky. Plop, plop. A drop, and a few of its compatriots, dribble down the inside of your collar. They're cold. Wet, and unpleasant. The drops slither down your neck.
"Take my cloak," he [Lord Golden] suggested. "It would only get as wet as the rest of me. I'll change into dry things when I get back." [Fitz] He didn't tell me to be careful, but it was in his look. I nodded to it, steeled myself, and walked out into the pouring rain. It was every bit as cold and unpleasant as I expected it to be. I stood, eyes squinted and shoulders hunched to it, peering out through the gray downpour. Then I took a breath and resolutely changed my expectations. As Black Rolf had once shown me, much discomfort was based on human expectations. As a man, I expected to be warm and dry when I chose to be. Animals did not harbor any such beliefs. So it was raining. That part of me that was wolf could accept that. Rain meant being cold and wet. Once I acknowledged that and stopped comparing it to what I wished it to be, the conditions were far more tolerable. I set out.

--- Fool's Errand, Robin Hobb
Keep it in perspective
Keep what in perspective? Well, everything, but particularly the bad things, the frustrating things, and the irritating things. So it's raining. So you cut your finger slicing potatoes. So it's ninety-nine degrees Fahrenheit and humid. You are in some set of circumstances and you wish to be in some other set of circumstances. You wish to be dry. You wish your finger didn't hurt. You wish to be cool and comfortable without drops of sweat sliding down your neck.
Unfortunately, we don't live in a world where wishes change the world's physical properties. We have limited control over our environments. We have slightly more control over our reactions to our environments.
"Since we cannot change reality, let us change the eyes that see reality." ---Nikos Kazantzakis
What you expect significantly influences how you will perceive your circumstances. The thing is, a lot of times, we don't explicitly set out our expectations. You leave the air-conditioned building with the continued implicit expectation that you'll be cool and comfortable, and when that blast of muggy, sticky air hits you, it hits you twice as hard because you're expecting something else.
What can you do about this? Try explicitly setting up your expectations. It may help prevent the disappointment of being wrong (and feeling unpleasant). Instead of thinking "Aaugh, I'm getting wet and the rain is cold, why can't I be warm and dry?" try thinking "Okay, I'm going out in the rain so I'll be wet and cold. That's just how rain is." Keep in mind that this works both ways--sure, you can set yourself up to expect to feel better about your circumstances, but you can also easily set yourself up to expect to feel worse.
As a final note, I'm sharing to a quote I occasionally turn to as a reminder to keep things in perspective, from Nick Hornby's High Fidelity (on the subject of pop music):
"Did I listen to music because I was miserable? Or was I miserable because I listened to music?"
Are you miserable because of your circumstances, or are your circumstances miserable because of your misery?