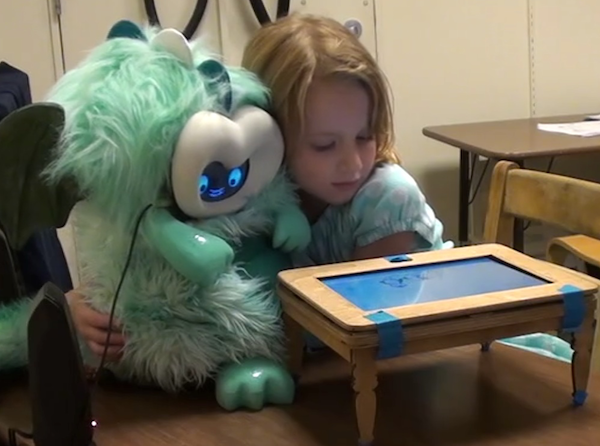 Click here to see the video showing this project!
Study Overview
For my master's thesis at the MIT Media Lab, I created a social robotic learning companion that played a storytelling game with young kids.
Children's oral language skills in preschool can predict their academic success later in life. Helping children improve their language and vocabulary skills early on could help them succeed later. Furthermore, language learning is a highly social, interactive activity. When creating technology to support children's language learning, technology that leverages the same social cues and social presence that people do—such as a social robot—will likely provide more benefit than using technology that ignores the critical social aspects of language learning.
As such, in this project, I examined the potential of a social robotic learning companion to support children's early long-term language development.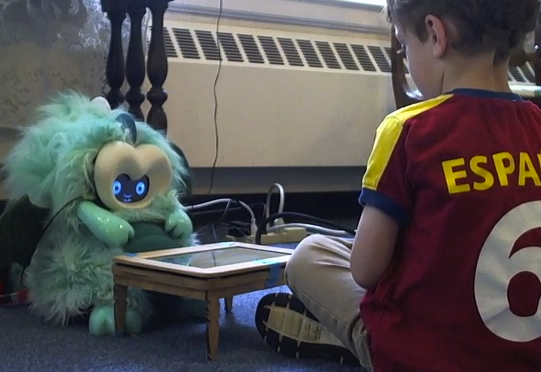 Study
The robot was designed as a social character, engaging children as a peer, not as a teacher, within a relational, dialogic context. The robot targeted the social, interactive nature of language learning through a storytelling game that the robot and child played together. The game was on a tablet—the tablet showed a couple characters that the robot or child could move around while telling their story, much like digital stick puppets. During the game, the robot introduced new vocabulary words and modeled good story narration skills.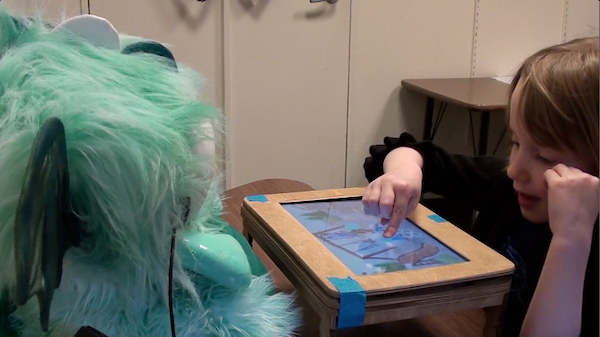 Furthermore, because children may learn better when appropriately challenged, we asked whether a robot that Matched the "level" of complexity of the language it used to the general language ability of the child might help children improve more. For half the children, the robot told easier or harder stories based on an assessment of the child's general language ability.
17 preschool children played the storytelling game with the robot eight times each over a two-month period.
I evaluated children's perceptions of the robot and the game, as well as whether the robot's matching influenced (i) whether children learned new words from the robot, (ii) the complexity and style of stories children told, and (iii) the similarity of children's stories to the robot's stories. I expected that children would learn more from a robot that matched, and that they would copy its stories and narration style more than they would with a robot that did not match. Children's language use was tracked across sessions.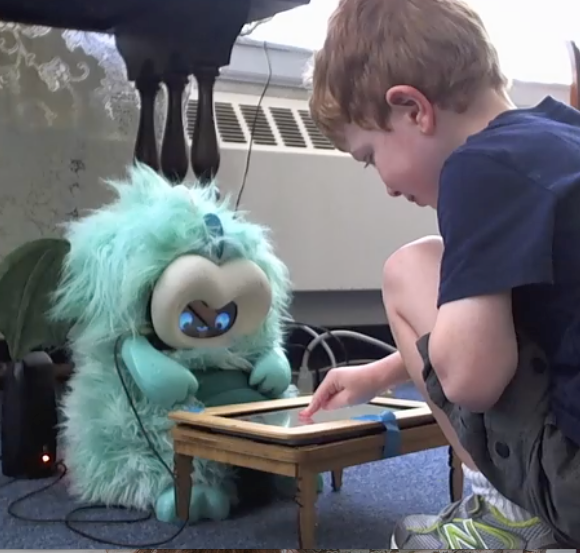 Results
I found that all children learned new vocabulary words, created new stories during the game, and enjoyed playing with the robot. In addition, children in the Matched condition maintained or increased the amount and diversity of the language they used during interactions with the robot more than children who played with the Unmatched robot.
Understanding how the robot influences children's language, and how a robot could support language development will inform the design of future learning/teaching companions that engage children as peers in educational play.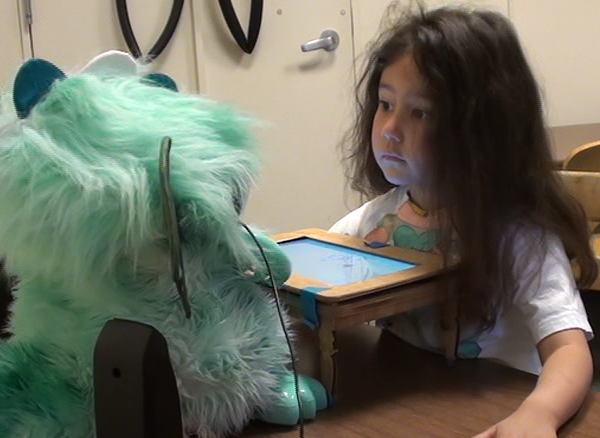 Links
Publications