As my undergrad years draw to a close, I want to share some of the resources I've found with those of you who are just now dealing with those fantastic years -- and the summers in between.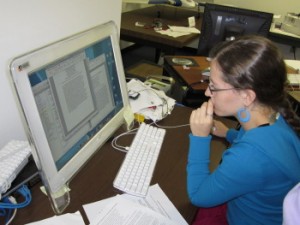 Comprehensive Cognitive Science & Computer Science Internship List
This is a list I've compiled of internships for undergraduate students interested in Cognitive Science and Computer Science. Given my own focus, there is a bias for summer research programs involving robotics. Many of these programs are open to students with other interests (e.g., there are REU programs in almost every branch of science!), and some have sessions during the year as well as over the summer, so even if at first glance you may not think you'll find anything, it may be worthwhile to take another look!
Keep in mind that this is, so far, just a list of formal opportunities -- it is often worthwhile to contact researchers or companies whose work you find interesting to see if you can independently set up an internship with them. Some will happily let you volunteer in their labs and workplaces, and some may even have grant money or other funding for student stipends and salaries. You never know unless you ask!
If you know of a great opportunity that I haven't listed, tell me so I can add it!
This list was last updated in 2011. If there are any broken links below, or if some opportunities no longer exist, please tell me so I can fix the list.
Opportunities
College/University research programs
NASA internships
Note that now, you can apply for NASA internships all in one place. You may get more info about each program on their own pages.
National labs and related
Miscellaneous research
Industry internships